Why Facebook's Shazam-style audio recognition could be a game-changer for #SocialTV
This week Facebook announced a new feature which lets users "listen" to what they're watching on TV, helping them to tag posts and to share official pages of TV shows. Here's why we think this is a game-changer.
This week Facebook announced a new feature which lets users "listen" to what they're watching on TV, helping them to tag songs and TV shows, making it easier to discover official content. Here's a few reasons why we think this could be a game-changer for #socialtv.
1. Simpler Discovery
One of the biggest challenges facing Social TV is how to drive discovery of authentic content. Sometimes you can promote gaming, voting, exclusive content within a show through on-screen graphics or on-air mentions but this isn't always practical. For example in drama or in pre-recorded shows, this can be inappropriate or awkward technically. The problem with Shazam is that it's associated with music and TV-tagging isn't a habitual existing behaviour.
Facebook is different - status updates are a habit for billions, it therefore has much more power to drive attention back to media owners' content. Making it easier for people to tag what they're watching means the visibility of the official show page increases dramatically. Clicking through to the Facebook Page allows us to tactically place live content, apps etc. in that page and drive more usage, taking the audience straight to real-time apps in the Facebook browser, like this:
2. Better Monetization
For a broadcaster, a consumer of their content has most value when they're engaging with something that can carry advertising, commerce and data-capture. Getting more people to it, means more revenue potential. If a greater portion of those people are within the Facebook app, that makes in-app payments, sharing and competing with friends even more convenient. Of course, for Facebook it ultimately means more knowledge on what people like, whether or not they've 'Liked' a page.
3. Meaningful #hashtag voting
As one of Facebook's Public Content Solutions partners, we're providing more ways to allow Facebook users to interact with high-profile TV events in entertainment and sport, using LViS Studio and LViS Apps. The new Hashtag counter API now makes it possible to do high profile hashtag voting on Facebook with legally compliant data backing up the results.
Twitter currently does a great job of complimenting TV, in part due to the open nature of its platform and the simplicity associated with it. Almost everything you write on Twitter is intended to be public, so contributing to a group discussion and voting publicly feels natural. However, even though Facebook's user base is much much higher, voting in status updates isn't something that yet feels natural, since status updates are still considered by most as semi-private expressions.
However, if live tagging of TV shows catches on in Facebook, we get the benefit of a more natural context for voting. We can say

"Hey everyone, tag the show now on Facebook and hashtag the name of your #driveroftheseason".
For people who aren't watching the show, they will see their friends' activity in the News Feed and can tap the official show page link. There they'll find a link to the voting app itself, or the list of available hashtag options.
4. Less reliance on the mobile web
Simple, memorable URLs are still the easiest way to get a TV audience to connect with a show and they will be for some time to come - after all, everyone has a browser on every device and not everyone wants to install an app for a show (although they will do for a big show). But as usage of apps increases proportionally to mobile web usage, and as Google try their best to kill off the URL and increase search we expect URLs to be less and less familiar to younger users. Data below from Neilsen isn't surprising, but underlines how important apps become once they're part of a user's every-day usage pattern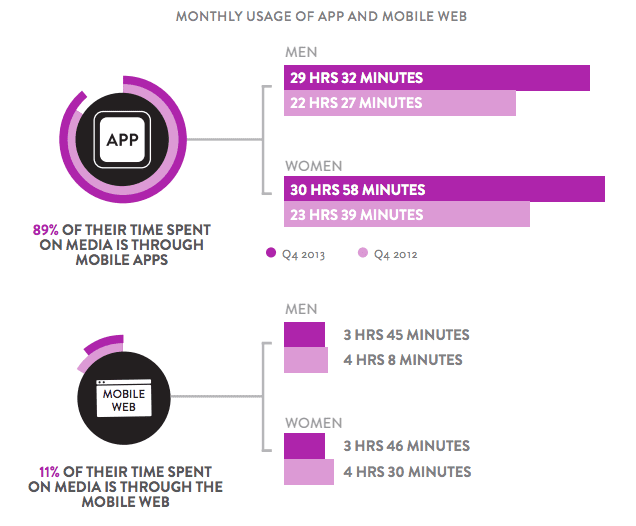 With Facebook's in-app web browser itself a popular way to read HTML content, making it easier to locate links without them being deliberately shared will be a good thing for Social TV.
Of course, as an opt-in feature it remains to be seen how many people choose to enable the service. If enough people do, it has potential to increase usage of interactivity with TV. That's good for TV, and for us it's another route for audience to find real-time apps powered by our LViS platform. This video explains how it works:
See what TechCrunch have to say about it here.
If you're a media owner, agency or brand and want to learn more, please get in touch.